J. Kevin Duplechain, MD, FACS
1103 Kaliste Saloom Road #300
Lafayette, LA 70508
Phone: (337) 456-3282
Monday–Thursday : 8 a.m.–4:45 p.m. Friday : 8 a.m.–12:00 p.m.

Lafayette Facelift
People come from all parts of the U.S. for facelift surgery in Lafayette, Louisiana, with Dr. J. Kevin Duplechain, whose artful results with this procedure speak for themselves.
Patient Benefits
Dr. Duplechain's Lafayette facelift patients enjoy many benefits and advantages. Both board certified and a facelift specialist, he has dedicated himself to developing improved facelift techniques for more complete, longer-lasting, and more natural looking results.
He performs a true deep plane facelift, which many surgeons do not offer due to the complexity of the procedure. Additionally, he has developed an endoscopic eyelid suspension technique which improves the appearance of the lower eyelid and upper cheek for comprehensive, seamless results.
In this video from the American Board of Cosmetic Surgery (ABCS), Dr. Duplechain discusses why a deep plane facelift excels in achieving natural-looking results while lifting the face in all the right places:
Many surgeons perform an S-Lift or a mini-facelift, which produces limited and typically shorter-lived results. With Dr. Duplechain's approach, patients can expect: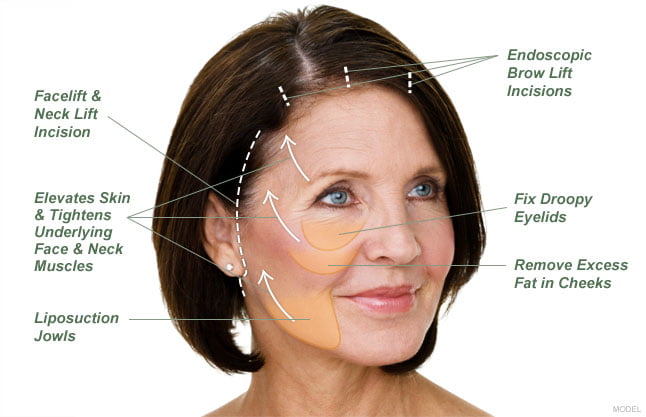 Dr. Duplechain Explains Your Facelift Procedure
Planning Your Procedure
When I perform facelift surgery, I begin with a consultation in order to understand and learn about the patient's cosmetic desires. If you are interested in the procedure, it is important that you are a non-smoker and are in good health to be considered a good candidate. I ask patients to bring in pictures of themselves from 10 and 20 years in the past, as well as a picture of them at about 20 years of age. This allows me to see the aging process as it occurred and allows me to create a plan that will either restore or improve on their once-youthful look.
Facelift surgery is often a difficult decision for many patients, and I will often meet with them on 2 or sometimes 3 occasions to ensure their needs will be met in the operating room. During the consult, I will review the 3 key components of the aging face.
How much does a facelift cost in Lafayette?
The cost of a facelift in Lafayette typically starts around $9,500. That being said, the total cost will vary based on each person's unique anatomy and the extent of surgery needed to reach their desired results.
During your initial consultation with Dr. Duplechain, he will assess your individual situation and discuss your surgical and non-surgical options. We will then provide a customized quote that covers all fees associated with your procedure. You will be able to go over this quote with our patient care coordinator who can answer any questions you may have.
Financing Your Surgical Procedure
We understand that cost is an important factor for our patients when considering a facelift. We are happy to offer financing options to make the cost of surgery more manageable, working with reputable financing companies to provide convenient payment plans that fit your budget and lifestyle.
To learn more about how much a facelift costs or your financing options to make this procedure a reality for you, reach out to schedule your consultation and get started!
Wondering when is the perfect age for you to get a facelift?
In this video, Dr. Duplechain share his expert insights on the right time to get a facelift.
Learn even more about getting facelifts at a young at in our blog, Am I Too Young for a Facelift?.
Key Components of Facial Rejuvenation
Sagging and Laxity
First, of course, is the laxity that developed as an effect of gravity and aging. This is addressed in the procedure by surgical techniques that elevate the tissues, remove or reposition fat, tighten the underlying facial and neck muscles, and remove and redrape the skin. This is described in more detail below.
Volume Loss
The second key component of aging is the facial volume loss that many patients develop. This may be due to a genetic factor, a dietary factor, or even a desire by the patient to be thin. I often restore volume with fat injections and platelet rich plasma (PRP) simultaneously during a facelift procedure to enhance the natural shape of the face, creating a more oval rather than square look. Pre-adipocytes, harvested from another part of the body, will over time create new fat cells that provide lasting volume and also help rejuvenate the skin. By using a patient's own fat and enhancing it with his or her own growth factors, a significant improvement can be achieved with fat grafting.
Skin Resurfacing
Finally, no facelift is complete until the skin has at least been considered. I perform CO2 laser resurfacing on most of my patients who are undergoing facelift surgery. The "shrink wrap" effect of the laser creates a smooth, flawless complexion that completes the rejuvenation of the aging face. Combined with an oxygen-rich cream to enhance the effects of the laser procedure, the skin may take on a completely rejuvenated appearance. If the patient is also concerned by upper facial aging and sagging, I may recommend a brow lift or forehead lift to refresh the brow and create a complete improvement. This procedure can be performed in conjunction with a facelift.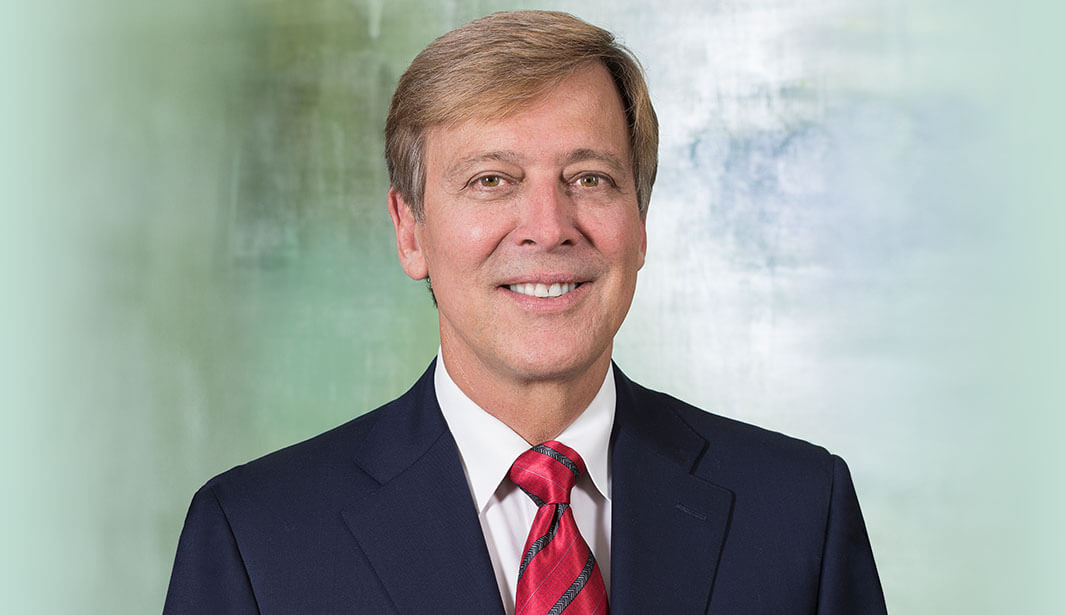 J. Kevin Duplechain, M.D., FACS
Dr. Duplechain's dedication to excellence in aesthetic surgery is reflected in his own work, his remarkable credentials, and in the education and training he provides to aesthetic surgeons worldwide. He will work with you to provide the beautiful, natural looking results you desire.
Meet Dr. Duplechain

Your Surgery
When performing facelift surgery, I use the deep-plane technique, also referred to as the sub-SMAS technique, which stands for superficial musculo-aponeurotic system. This technique of facelift surgery places less tension on the skin, which creates a more natural appearance compared to other facelift methods. The droopy muscles, however, are placed under significant tension with permanent suture to provide a strong and lasting result.
I believe the deep plane procedure is the most suitable procedure for most patients. It can be modified to include or exclude the neck when necessary, but its usefulness is most apparent in tightening the lower face without giving a stretched or "operated on" look. Even in patients who desire a "mini lift," the principles of facial muscle tightening are still important, and should not be compromised.
During your procedure, I begin by creating an incision in the hairline and elevating the skin. From there, I remove excess fat that may be present in the jowls, chin, and neck, then tighten the underlying facial and neck muscles. Lastly, I remove excess skin and redrape the remaining skin, resulting in a smoother appearance.
Once this is complete, fat injections and laser resurfacing are also performed to polish and refine the contours of the face. Most patients are able to be discharged, but some choose to stay in our overnight facility where a dedicated nurse attends to their every need. This type of complete facelift is one of the most popular procedures performed in our office. This type of procedure is typically performed under general anesthesia under the direct care of a board-certified anesthesiologist.
Why Dr. Duplechain for Your Facelift
Why Dr. Duplechain for Your Facelift
More than 2,000 facelifts performed
One of a limited number of surgeons offering a true deep plane, high SMAS facelift
Incorporates lower eyelid suspension and fat grafting for more complete results
Uses laser resurfacing to "shrink wrap" and smooth the overlying skin
Teaches his innovative facial surgery techniques to peers
Recovery & Results
Dr. Duplechain recommends taking about 2 weeks off work after your facelift surgery. Although the recuperation process usually isn't overly painful, it does take some time for bruising and swelling to diminish enough for most people to feel comfortable in public. If your employer permits, you may choose to work from home for a few weeks while you recuperate.
Because a facelift incision is generally made along the hairline, it will likely be virtually unnoticeable once healing is complete. After your surgery, it will typically take between 10 and 14 days until you are ready to be out socially, but some bruising or swelling may persist for slightly longer. By this time, you'll notice a significant improvement to the structure of your face, but it may take up to 6 months for your results to fully develop. Keep in mind that your individual experience may vary.
Dr. Duplechain and his experienced staff of nurses and aestheticians will help plan and provide a medical-grade skin care regimen that will allow the best possible results for your skin as your incision scars begin to heal in the weeks following your facelift. In the long term, you can enjoy your rejuvenated face for many years by practicing good skincare habits and protecting your face from the sun to promote lasting skin health.
Facelift Surgery Incisions
In this video, Dr. Duplechain discusses how he carefully places facelift incisions so that others will not be able to tell you've had surgery done.
Learn more about facelifts on Dr. Duplechain's blog:
Facelift Surgery with Dr. Duplechain in Lafayette, LA
Contact our office today to learn why men and women come from all over Louisiana, including Alexandria, Baton Rouge, New Orleans, and Lake Charles, as well as travel from all over the country for facelift surgery in Lafayette with Dr. Duplechain. Request your consultation using the online form, or call our office at (337) 456-3282 to schedule an appointment.
Areas Served:
Back to Top