J. Kevin Duplechain, MD, FACS
1103 Kaliste Saloom Road #300
Lafayette, LA 70508
Phone: (337) 456-3282
Monday–Thursday : 8 a.m.–4:45 p.m. Friday : 8 a.m.–2:00 p.m.

Donna's Story
Look as Young as You Feel*
I'm a really happy person, but I looked sad. My appearance now reflects my personality. It reflects who I am."
How one woman let her inner light shine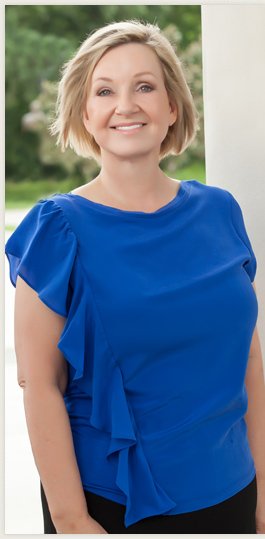 Donna believes there's a misperception about why women and men get facial cosmetic surgery. "People think you're unhappy, that you are trying to feel better inside by changing the outside." In fact, she says, the opposite is true. "I wanted my appearance to really reflect my personality. I'm really a happy person, but I looked sad," Donna says. Plastic surgery in Lafayette with Dr. J. Kevin Duplechain changed all that. "My appearance now reflects my personality. It reflects who I am."
Married for 27 years and the mother of a grown daughter, Donna, 55, says there's no reason to look older than you feel. "I knew how I felt, but when I looked in the mirror the person looking back was old." Donna says she struggled with weight fluctuations in recent years. She finally managed to lose 50 pounds, but the result was excess, baggy skin on her face and neck. "I really noticed my face just crashed."
Before retiring, Donna worked more than 25 years in the medical field. She was referred to Dr. Duplechain by someone she respected who was familiar with plastic surgeons in the Lafayette area, who said Dr. Duplechain was "doing the latest techniques" in plastic surgery. She also knew of other medical professionals that referred their facial reconstruction cases to him.
Help Wanted
Confident she chose an excellent surgeon, Donna says anxiety still crept in on the day of her consultation. Due to her expectations, she worried Dr. Duplechain couldn't accomplish everything on her wish list. She even thought she'd appear neurotic if she mentioned every facial feature she wanted changed. Within minutes of meeting the surgeon, she exhaled a sigh of relief. "He walked in and he knew exactly what I needed," she says. "He was very professional, very kind. I could tell he liked being a plastic surgeon and that he was very competent." By the time she left the hour-long consultation, Donna says, "I was relieved and sure I would have great results."
Dr. Duplechain emphasized tackling all problem areas at once, she says. To achieve great, lasting results with her appearance, he explained, would be accomplished by performing all of the necessary procedures. Besides the face lift, Dr. Duplechain also performed a brow lift, upper and lower blepharoplasty (eyelid lift), and a chin implant. He also injected fat taken from Donna's stomach to add volume and performed laser skin resurfacing for her face, neck and upper chest. And, for good measure, the surgeon removed a mole from her nose.
"This is the best personal decision I've ever made. This is the best money I've ever spent."
'Damn, He's Good'
Surgery, she says, was a snap. The doctor and his staff did an excellent job preparing her for the operation and recovery. "I was really worried about the recovery. I tried to speed it up, but my body needed the recovery time as instructed." Donna says she'll always remember the first moment after the bandages came off and she got the initial glimpse of her face: "My eyes were so open and blue." Her second thought? "He did it. Damn, he's good." Donna is especially pleased about the natural look she maintains.
*Keep in mind that each patient is unique and your results may vary.
Back to Top