J. Kevin Duplechain, MD, FACS
1103 Kaliste Saloom Road #300
Lafayette, LA 70508
Phone: (337) 456-3282
Monday–Thursday : 8 a.m.–4:45 p.m. Friday : 8 a.m.–12:00 p.m.

Cheryl's Story
Retirement is Looking Good*
"People trade their cars in every couple of years for a new one, and my surgery was less than a new car. … (Plastic surgery) was my new car."
At 60, this mom follows through with a longtime desire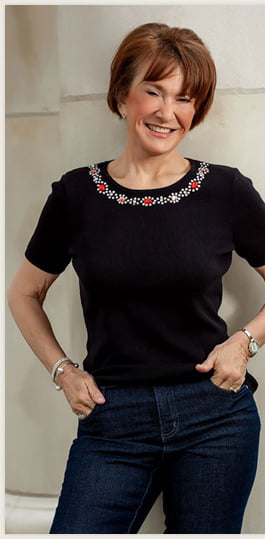 Like many moms, Cheryl felt frustrated with her body image. Her breasts sagged. Stubborn belly fat never disappeared, no matter how much weight she lost. But unlike many women who decide to get plastic surgery, the Lafayette retiree's children aren't toddlers, or even school age. They are in their late 20s and early 30s. It was one of her daughters, in fact, who referred her to Dr. J. Kevin Duplechain, one of the top plastic surgeons in Lafayette, LA.
"I thought about this for at least 15 years," Cheryl says. An elementary school teacher raising 3 children, she says finding the right time was difficult. "I just thought we'd never do it." But her husband remained supportive, and Cheryl, now 60 and retired, says she wanted to do something for herself. Plus, they could afford it. "People trade their cars in every couple of years for a new one and my surgery was less than a new car. Plus, I didn't want a new car." The surgery, she says, "was my new car."
Cheryl wanted a tummy tuck more than anything else, she says, but decided to have a mastopexy (breast lift) at the same time. "I call it 'putting the boobs back where they belong,'" she says.
Face First
Cheryl decided to get a face lift at the Lafayette office about 2 months before the tummy tuck and breast lift. She was especially excited about getting her droopy eyelids lifted. She wasn't disappointed. Now she looks in the mirror, and "all of a sudden these big blue eyes are staring out at you." Cheryl knew she made the correct choice in surgeons when she and her husband met Dr. Duplechain for the initial consultation. "I know he's a doctor and he's busy. I didn't want to take up too much time, but my husband still wanted more information. The doctor said, 'I have a lot of time. I'll answer all of your questions.'"
"He Takes Care of You"
Surgery is performed at Dr. Duplechain's cosmetic surgery center in Lafayette. The staff "is smiling all the time. They are so upbeat." Following Cheryl's tummy tuck and breast lift, though, the doctor had her spend the night in a hospital. Cheryl says the room and care were unlike anything they expected.
"He takes care of you," Cheryl says. "He really takes care of you."
That attention to detail and personal care continues after you return home. Routine follow-up appointments are scheduled, and Cheryl says Dr. Duplechain seems to be always available. After she accidentally pulled out some stitches following her facelift, Cheryl says, the doctor treated her on a Saturday. "He even gives you his cell phone number so you don't have to go through an answering service."
You have a lot of questions after you go home, she says. Is this supposed to feel like this? Is this normal looking, or is it a complication? Dr. Duplechain, she says, always reassured her. "If I ask him about something, he'll explain it until I understand it."
Never Too Late
Even though she thought about having plastic surgery for years, Cheryl says she has no regrets about undergoing cosmetic surgery after retiring. If any friends ask her for advice, she says to follow their desires. "I would tell them to do it in a second," she says. "I like looking at myself in the mirror."
*Keep in mind that each patient is unique and your results may vary.
Back to Top