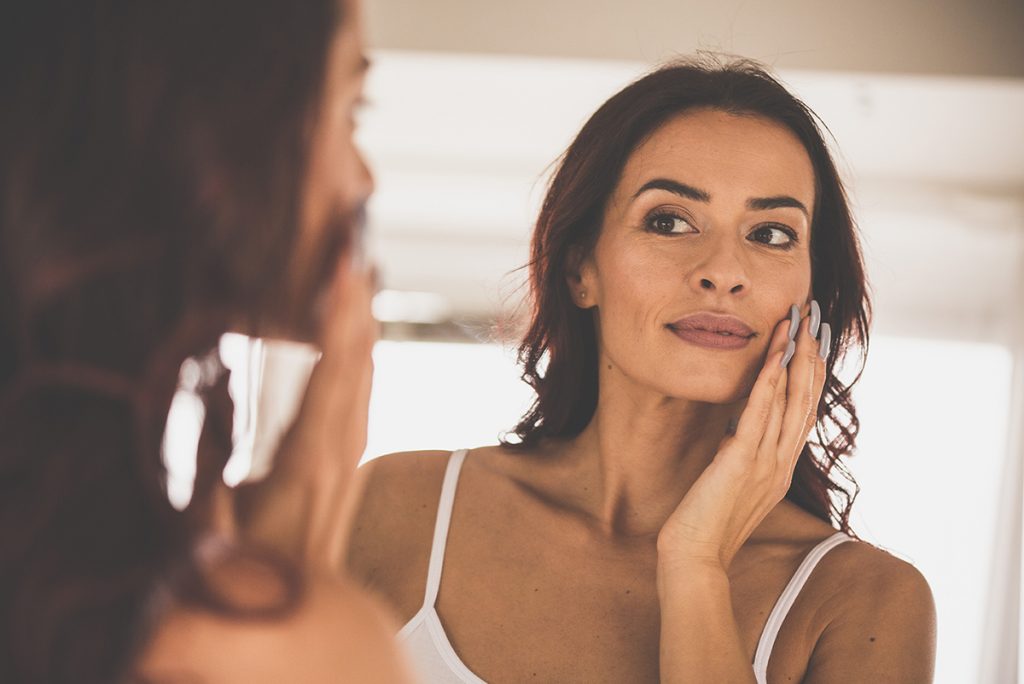 What do Christie Brinkley, Jennifer Aniston, and Kim Kardashian have in common? Other than being gorgeous women, they have a not-so-secret method for maintaining their good looks: Ultherapy® skin tightening. This non-invasive treatment can be used to smooth crepey neck skin or to tighten areas like the eyelids or jowls—with zero incisions.
Are you looking for a way to enjoy a more youthful look without the downtime of surgery? Read on for cosmetic surgeon Dr. J. Kevin Duplechain's answers to the most common questions we hear about Ultherapy.
What is Ultherapy skin tightening?
Ultherapy, or "microfocused ultrasound with visualization," is a non-surgical, non-invasive skin tightening treatment. By applying ultrasound energy at the skin's surface, Ultherapy promotes skin contraction and production of both collagen and elastin below the surface in order to achieve tighter, firmer skin.
How does Ultherapy work?
Collagen is the main protein in your skin, giving it plumpness and elasticity. Collagen breaks down as we age, causing our skin to thin and become lax. Ultherapy fights aging by directly stimulating fresh collagen production.
During treatment, the Ultherapy device sends microfocused ultrasound energy below the outer layer (epidermis) of your skin to a calibrated depth below the surface, into the dermis layer. The energy causes an immediate skin contraction, while also prompting a long-lasting boost in collagen production in the treated area.
Ultherapy is not permanent, though patients can expect to enjoy their results for years with some routine maintenance.
Unlike lasers and many other energy-based devices, Ultherapy bypasses the top layers of your skin to prompt a regenerative process without affecting the surface, so you won't experience significant side effects. Instead, the right amount of energy is delivered at an exact depth for achieving optimal results with little to no downtime.
Just like any treatment that boosts collagen and tightens the skin, Ultherapy works by triggering your body's trauma response in a productive way. When pulses of ultrasound energy penetrate the dermis, it inflicts a nominal amount of "damage" to cells and causes your body to respond with a healing process. This skin healing involves the regeneration of collagen proteins ("Neocollagenesis"), and it can last for weeks following Ultherapy.
Is Ultherapy permanent?
Ultherapy is not permanent, though patients can expect to enjoy their results for years with some routine maintenance. Because the internal process instigated by Ultherapy prompts your body to produce more collagen than is needed to heal, the regeneration process can last for an extended period of time.
Ultherapy is typically used to treat lax, drooping skin on the neck, chin, and brow. However, it can also be used on the chest and other areas of the face to help smooth and tighten the skin.
It's important to note that Ultherapy will not stop the aging process, so multiple treatments spaced at least 18 months apart is the best way to ensure continued improvement.
When do results appear after Ultherapy treatment?
While patients will see some immediate tightening, it takes about 3-6 months before most patients see noticeably tighter, more supple skin. Results continue to show as long as collagen production continues and the treatment can offer noticeable improvements for several years.
Does Ultherapy hurt?
As with any energy-based procedure, it's normal to experience some discomfort, and different patients have varying levels of tolerance. Most of our patients don't find Ultherapy treatment very painful. That said, if you are concerned about discomfort or if you are having a sensitive area treated (i.e. under the eyes), we will discuss your options for using over-the-counter pain medication and/or a numbing medication before treatment. We also may provide prescription medications when necessary.
Can Ultherapy treat drooping eyes?
Yes, Ultherapy can be used around the eyes to tighten sagging upper eyelid skin or bags. While Ultherapy is FDA-cleared to treat sagging skin on the neck, chin, and brow, we have used Ultherapy around the eyes with great results. Because the area around the eye can be sensitive and the skin is thinner here, it's particularly important that you work with an experienced provider to ensure you have a safe treatment customized to your anatomy.
Where can Ultherapy be used?
Ultherapy is typically used to treat lax, drooping skin on the neck, chin, and brow. However, it can also be used on the chest and many other areas of the face to address common concerns like:
Jowling
"Turkey gobble"
A crepey décolletage
Lines and folds on the lower cheeks and near the chin
Droopy eyebrows
Is bruising normal after Ultherapy?
While not every patient will experience bruising, it is a normal side effect, along with slight swelling, redness, and a bit of tenderness. Typically, side effects last only a few days and are quite tolerable.
Applying ice to the treated area can help alleviate swelling and any residual discomfort. If side effects last longer than a few days, contact us for a follow-up appointment—we will get you into the office as soon as possible to ensure there is nothing more serious going on.
How much does Ultherapy cost in Lafayette?
The cost of Ultherapy varies depending on the extent of the treatment. Eyelid lift Ultherapy procedures may be as little as $300, while full face and neck treatments may cost $1500 to $2500.
Ultherapy most likely does not interfere with dermal fillers or Botox. Still, we recommend spacing out these treatments as a precaution.
Does Ultherapy affect fillers?
Ultherapy most likely does not affect cosmetic facial fillers; preliminary evidence suggests that injectables and Ultherapy together are just as safe as the two treatments alone. To err on the side of caution, however, we recommend spacing apart treatments with Ultherapy and injectables when having them performed in overlapping areas. Sometimes the best non-surgical results come from combining treatments, and BOTOX and dermal fillers are excellent complements to Ultherapy, whether used in separate areas—i.e. Ultherapy on the jawline and neck, BOTOX in the upper face, and fillers in the midface—or in some of the same ones.
Thinking about Ultherapy in Lafayette? Schedule a consultation with cosmetic surgeon Dr. Kevin Duplechain
Dr. Duplechain has offered Ultherapy skin tightening to his Lafayette patients for a number of years now, and he will be happy to answer your questions and discuss what results are possible for you with Ultherapy. Schedule your personal consultation today by calling our office at (337) 456-3282 or contacting us online.