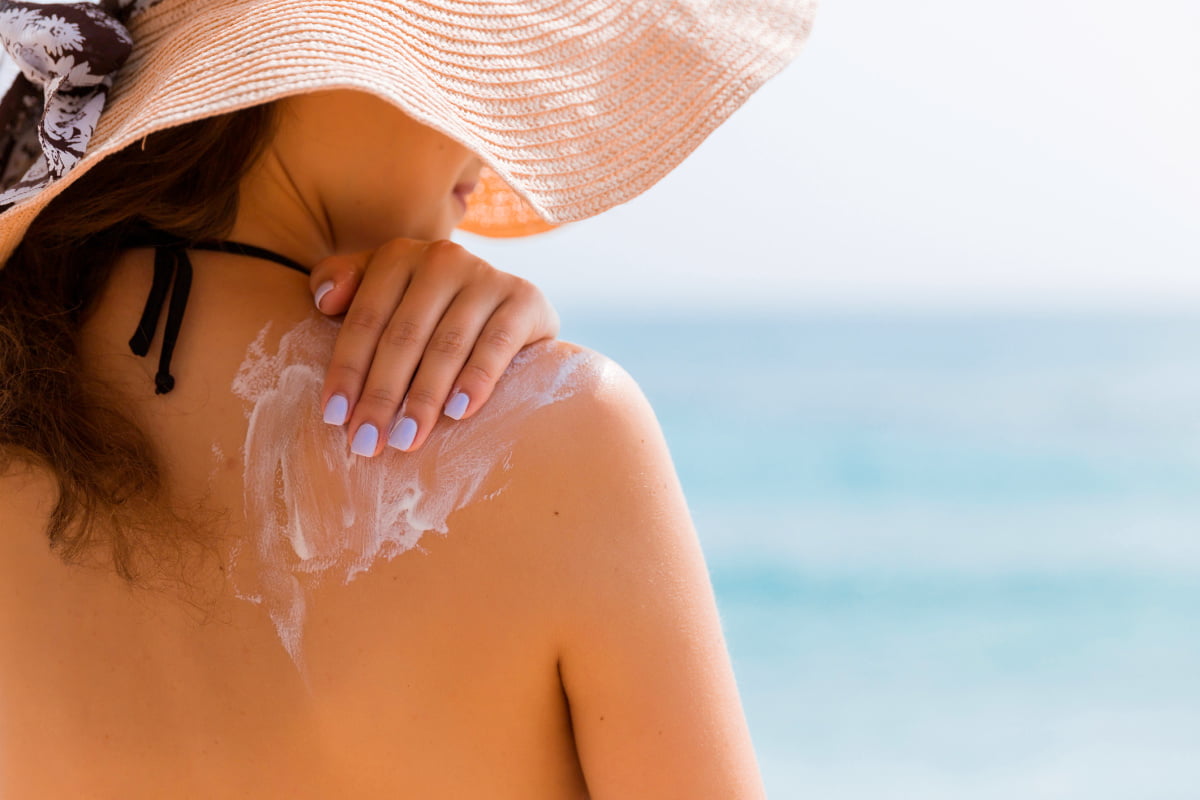 You've likely heard that you need to be wearing sunscreen every day, both to keep your skin looking young and to protect you from ultraviolet (UV) radiation that can lead to skin cancer. But a May 2021 statement from Valisure, an independent lab, warned the public that cancer-causing benzene was detected in 78 of 294 drug-store sunscreens it tested, leading many of us to ask, how can I be sure that my daily sunscreen is safe?
An independent lab detected benzene, a known carcinogen, in dozens of popular drug-store sunscreens.
Thankfully, the list of benzene-contaminated sunscreens is published online, as well as a much longer list of sunscreens that were found to contain no detectable benzene at all. Here's everything you need to know.
What is benzene contamination in sunscreen? How dangerous is benzene?
Benzene is not an ingredient in sunscreen, but rather a chemical that is used in the manufacturing process for products like pharmaceutical drugs and synthetic materials. Any benzene found in sunscreen is most likely due to contamination that occurred during the manufacturing process.
Benzene has been linked to blood cancers, and in large quantities, it is unsafe for human exposure; still, humans are regularly exposed to trace amounts of benzene in products like gasoline, cigarette smoke, and even glue. Multiple organizations regulate benzene contamination levels in mass-produced chemicals. For example, the Environmental Protection Agency (EPA) limits the amount of benzene that gasoline can contain and, separately, the allowed amount in drinking water.
Why did Johnson and Johnson recall some of its sunscreens?
In July, Johnson and Johnson voluntarily recalled a number of its aerosol spray sunscreens, including all Neutrogena® Ultra Sheer® aerosol products, citing very low levels of benzene detected in some of the products. The company notes that, at the levels detected, humans would likely suffer no harm even with daily use. Still, they recalled these products as a precaution because benzene is known to be dangerous, and benzene was not intended to be part of these products.
What should I do about benzene contamination in sunscreen?
Check your sunscreen containers against the Valisure and Johnson and Johnson lists in order to be sure you are using a daily sunscreen that is not thought to contain benzene:
Check to see if your sunscreen(s) were either on the Valisure list of products contaminated with benzene or the list of sunscreens with no detectable benzene.
Check to see if your sunscreen is one of the products recalled by Johnson and Johnson for possible benzene contamination.
If your products may be contaminated, safely dispose of them. Lotion or gel sunscreens and after-sun products can be emptied and the containers recycled (if applicable), but aerosol containers (i.e. all recalled Johnson and Johnson products) are considered to be hazardous waste if the sunscreen has not been completely used up. Follow your local guidelines to dispose of these cans safely.
Replace contaminated sunscreen with products that you can trust, referencing Valisure's "safe" list for products with no detectable benzene. We also recommend consulting with your medical aesthetician or dermatologist to identify products from trusted skincare lines that will be well-suited to your skin's overall needs.
About Dr. Kevin Duplechain in Lafayette, LA
Lafayette cosmetic surgeon Dr. Kevin Duplechain offers a full range of cosmetic procedures, including injectables and non-surgical aesthetician treatments. To learn more or schedule a consultation, call (337)456-3282 or contact our practice online.