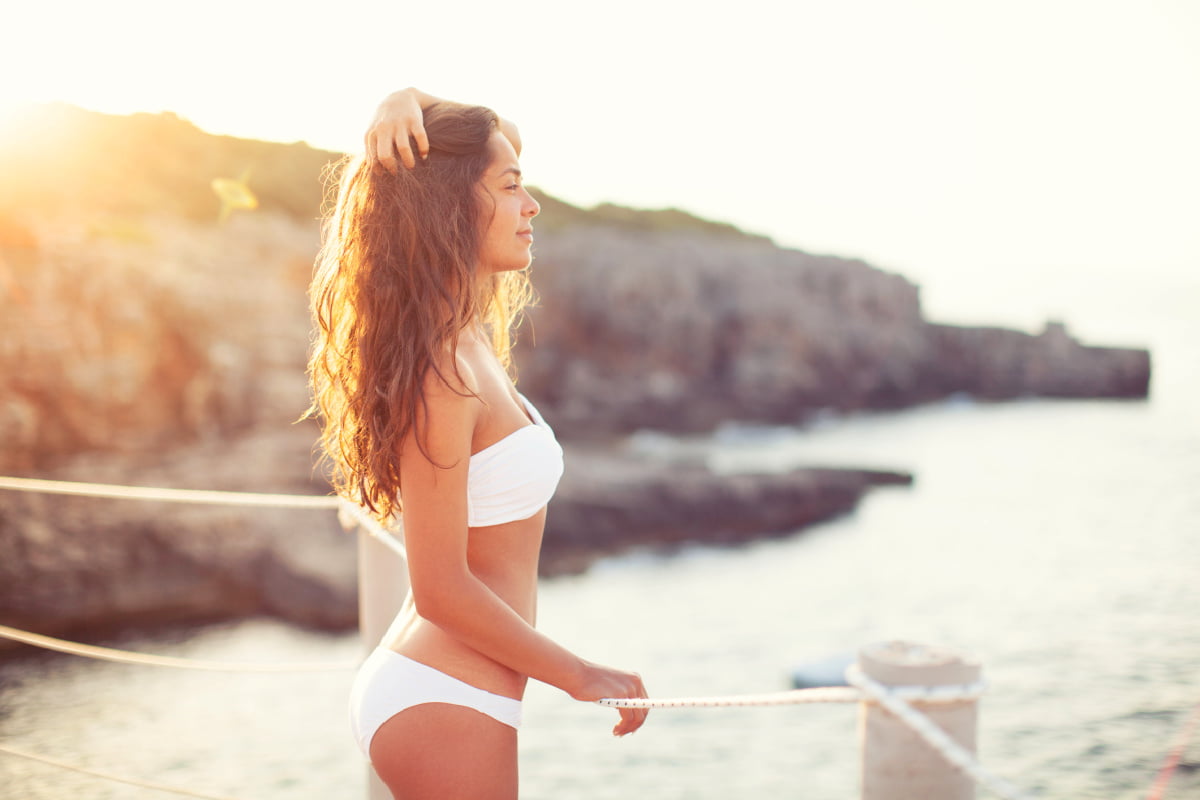 The cosmetic surgery field is constantly undergoing innovative new technologies and techniques to help patients look great without lengthy procedures or extensive downtime. The combination of 360 liposuction and Renuvion is an excellent example of this innovation, providing patients with full-body fat reduction and skin tightening in one minimally invasive procedure. Since swimsuit season is just around the corner, we want to share why our Lafayette patients are choosing 360 lipo + Renuvion to achieve sexy contours and smooth skin.
What is Renuvion?
Renuvion®, also known as J-Plasma treatment, is a radiofrequency (RF)-based technology developed by Apyx Medical to tighten and refresh skin without surgery. Unlike other minimally invasive skin tightening devices, Renuvion combines RF energy with helium plasma to quickly heat skin and underlying tissues to the ideal temperature necessary for contraction and collagen stimulation while providing minimal heat to the skin's surface. This heating/cooling combo allows you to achieve the best possible skin tightening results without discomfort in a shortened period of time.
How does Renuvion tighten skin?
Renuvion tightens skin through 2 main processes: neocollagenesis and fibrous septae contraction.
Neocollagenesis: Collagen is a protein in your body that is essential for healthy, vibrant skin. Renuvion works by heating the tissues below your skin to encourage new collagen growth, a process known as neocollagenesis. Once this process is started, it will continue for about 6 to 9 months, providing you with results that keep improving long after your procedure.
Fibrous septae contraction: While other RF devices simply treat the skin's surface and the tissue directly beneath it, Renuvion is able to tighten your entire subdermal network. Here's how it works: Your skin is attached to fascia deep below its surface by fibrous collagen bands called "fibrous septae." These fibrous septae act as connective threads anchoring your skin to your muscles. Renuvion is able to tighten these fibrous bands, creating effective and long-lasting skin contraction.
What is 360 liposuction?
Your body isn't two-dimensional, so why should your lipo be? 360 liposuction is an approach to liposuction that takes the entire body into account, not just one or 2 trouble spots. By treating all sides of the body, 360 lipo is able to achieve maximum contouring for an overall slimmer, curvier, figure that looks great from every angle.
What areas of the body can we treat with 360 lipo?
While we are able to treat most areas of the body with liposuction, 360 lipo typically refers to liposuction of the full circumference of the midsection. This includes:
The upper and lower abdominals
The flanks (love handles)
The mid-to-lower back
Does 360 lipo cost more than regular lipo?
360 liposuction does not inherently cost more than standard liposuction; however, since your surgeon will be treating more of your body than most surgeons treat with traditional lipo, 360 lipo may take longer and therefore cost more. In short, the price of your 360 lipo will depend on the extent of your body fat and your body contouring goals. This procedure is typically a combination of ultrasound-assisted liposuction with Renuvion.
Why combine 360 lipo and Renuvion?
Unless you are young or have exceptional skin quality, patients may experience skin sagging in the areas where liposuction was performed. You can think about this side effect in terms of the basic laws of gravity: Our fat cells provide support for our skin, and once they are removed, gravity causes skin to fill in these depressions, making it appear loose and saggy. This has always been a difficult decision to make with liposuction: either remove too much fat and your skin becomes saggy, or leave a little fat and you won't have as much droopiness.
This is where Renuvion comes into play. After your surgeon has performed liposuction, he or she will insert the Renuvion wand just beneath your skin. The heat generated by the flow of helium plasma energy triggers neocollagenesis, creating a tightening effect in the skin.
This part of the procedure doesn't take long; Renuvion's helium energy treats tissues in less than a second, resulting in up to 67% faster treatment than other RF skin tightening devices. Plus, Renuvion results can often be seen immediately.
In this video from the American Board of Cosmetic Surgery, Dr. Duplechain discusses how pairing Renuvion skin tightening and liposuction together creates a high-level of results for many areas of the body, like the tummy, arms, and neck:
360 lipo + Renuvion vs. BodyTite
You may be wondering how combining 360 lipo + Renuvion compares to an RF-assisted liposuction (RFAL) device, like BodyTite. While the BodyTite device is able to simultaneously melt fat and tighten skin, it can't provide the same results as 360 lipo + Renuvion together. For getting rid of stubborn body fat pockets, liposuction can't be beaten—and, when paired with Renuvion's ability to quickly and effectively tighten skin following lipo, 360 lipo + Renuvion can provide much better results than BodyTite alone.
Does 360 lipo + Renuvion treatment require surgery?
Renuvion doesn't require skin excision or disrupt blood supply, and therefore is considered a minimally invasive procedure. However, liposuction (including 360 lipo) is considered to be a surgical procedure. The good news is that liposuction is one of the least invasive procedures in the surgical classification and required incisions are extremely minimal.
Here's how the procedures are performed together. First, Dr. Duplechain will make a small incision (approximately 4mm wide) to insert a cannula to perform VASER liposuction by removing the fat with a power-assisted device (he uses a PAL MicroAire®). Once he has finished performing liposuction, he will then insert the Renuvion wand through the same entry point, which reduces postoperative discomfort and scarring.
360 lipo + Renuvion incisions heal exceptionally well, so you can be ready to hit the beach in just a few weeks after your procedure.
By requiring only a few tiny incisions, patients experience less pain and downtime with 360 lipo + Renuvion compared to body lifting procedures where skin excisions are made, such as a tummy tuck or thighplasty. 360 lipo + Renuvion incisions also heal exceptionally well, so you can be ready to hit the beach in just a few weeks after your procedure.
Limitations of 360 lipo + Renuvion
While 360 lipo + Renuvion can provide exceptional body contouring results, this combination may be inadequate for patients with significant skin laxity, like those who have recently undergone a massive weight loss. For these patients, a tummy tuck, circumferential body lift, or other body lifting procedure will be the best option.
Who is a good candidate for 360 lipo + Renuvion?
The ideal candidate for 360 lipo + Renuvion has reached their ideal body weight and wants to remove stubborn fat that can't be eliminated by diet or exercise alone. He or she should also have relatively good skin elasticity, be in fairly good health, and be a non-smoker.
If you're curious about whether or not you're a good candidate for 360 lipo + Renuvion treatment, schedule a personal consultation with cosmetic surgeon Dr. J. Kevin Duplechain. Dr. Duplechain serves patients in Baton Rouge, Alexandria, Lake Charles, and throughout the South. He will go over your specific body goals and assess your BMI and skin quality to design a customized treatment plan just for you.