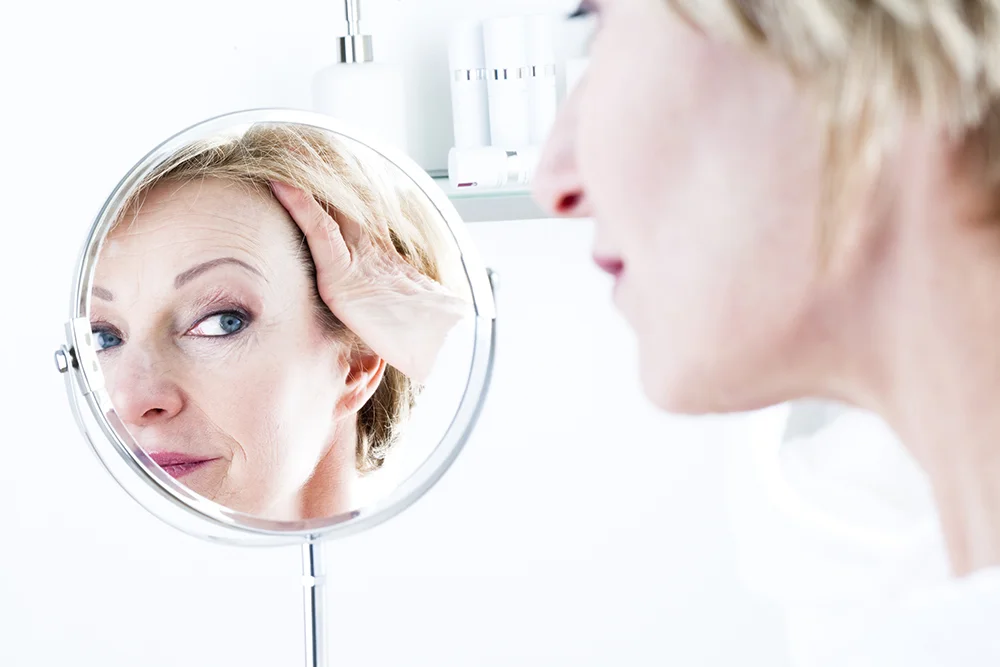 Hormones play an important role in our overall health: energy levels, metabolism, skin health, and hair growth are all governed by hormones.
Mind Body Green recently summarized some key ways hormones can play a part in thinning hair. Having seen many hair loss patients in our practice, we agree—in fact, even genetic hair loss has a hormonal component. Here's a summary of ways in which hormones may be at the root of hair loss.
If your hair loss is diffused across the entire head, your doctor will want to see if hypothyroidism could be the cause.
Estrogen, testosterone, and hair loss
Naturally-occurring hormones play a big role in hair loss for both sexes; while most people think of hair loss as a genetic, male-specific issue, approximately 40% of affected people are women. Hormones play a different part for each sex.
The main hormone involved in male pattern hair loss is the "active" type of testosterone, namely dihydrotestosterone (DHT). A portion of men carry a specific gene that causes their hair follicles to become sensitive to this naturally-occurring hormone. Systemically suppressing DHT is proven to slow this type of hair loss and is an important part of hair preservation. In addition to medical therapy, many patients choose to treat progressive hair loss with hair restoration technology.
When a woman sees her hair thinning gradually over the years (particularly around the top frontal area and extending towards the crown of the head), it is called androgenetic alopecia. This condition is also testosterone-related, but isn't caused by too much testosterone. Instead, the hair follicles become sensitive to normal levels of male hormones and shrink over time.
With women experiencing a more sudden hair loss, an estrogen imbalance is often the culprit. Estrogen naturally fluctuates over a woman's menstrual cycle, during and after pregnancy, and over the course of menopause. Weight changes can also affect estrogen levels. Too little estrogen can cause hair loss, but chronic estrogen dominance is equally problematic.
The role of the thyroid and T3 in hair loss
Your thyroid is crucial in delivering specific hormones that keep your body healthy and balanced, the primary one being Triiodothyronine (T3). The thyroid also controls your metabolism. If your hair loss is diffused across the entire head (i.e. not limited to specific areas), your doctor will want to see if hypothyroidism could be the cause. Both men and women can experience thyroid-related hair loss. Thankfully, it is usually temporary, as hair follicles are not damaged by this imbalance.
Insulin
Insulin levels can trigger hair loss in both men and women. Polycystic Ovary Syndrome (PCOS) is a common endocrine abnormality seen in women and is driven by elevated insulin. This can cause a variety of ailments including hair loss, weight gain, and difficulty getting pregnant.
In men, elevated levels of insulin encourage fat storage and an abundance of estrogen, triggering hair loss.
FUE hair transplants and PRP for thinning hair
Regardless of the reasons behind thinning hair, it can be a frustrating condition. Fortunately, treatment options have improved over the years, and we have found two particularly helpful options for both men and women.
NeoGraft is a unique hair replacement technology that helps you restore your hairline using follicular unit extraction (FUE). It moves individual healthy hair follicles from the back of the head to where they are needed, allowing you to naturally grow thicker hair. Unlike past hair transplant options, NeoGraft has little downtime, no linear scarring, and natural-looking results. Transplanted hair is typically more resistant to normal balding patterns and results should be preserved for many years.
For patients who need less dramatic intervention but still want to do something about thinning hair, we can administer PRP, or platelet rich plasma, directly to the scalp. PRP is a naturally occurring substance in our blood known for its regenerative properties, and we've seen first hand the difference it can make. It is a combination of many growth factors that can revitalize your existing follicles and bring them "back to life." Additionally, other more advanced products can be added to PRP to enhance results.
Are you experiencing hair loss and ready to take action against it? Dr. Duplechain and his team have helped many patients. Contact us today to learn more about your hair restoration options in Lafayette, LA.