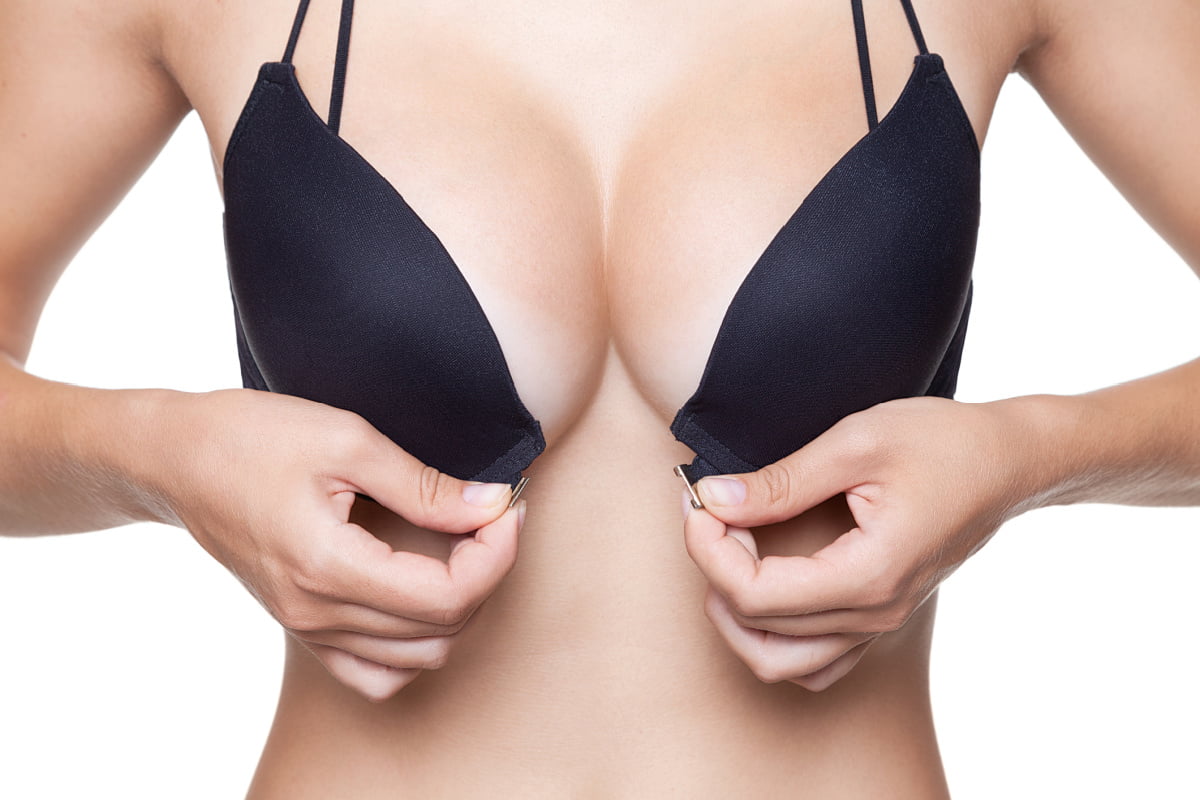 If you're looking into breast enhancement, one option for selected patients is transaxillary breast augmentation, with barely-visible incisions placed in the folds of each underarm. This "scarless" breast augmentation doesn't mean you won't have an incision, but it does mean that your scars will be as discreet as possible. Dr. Kevin Duplechain performs many breast augmentation procedures using this technique.
Transaxillary breast augmentation is ideal for many women, but you need to know how it differs from traditional augmentation methods—including that only a small minority of breast surgeons are experienced with this technique.
1. You need to choose a highly skilled cosmetic surgeon.
Regardless of the cosmetic procedure you choose, the most important choice is your cosmetic surgeon. But with transaxillary breast augmentation, choose a surgeon with the very highest level of technical expertise in this specific procedure.
Look for a surgeon who has significant experience in transaxillary breast augmentation and is up to date on the safest, most effective technologies involved. Look at the surgeon's website, reviews on platforms such as Google and RealSelf, and ask them how many procedures they perform in a typical month—as well as how long they've been performing them—in your one-on-one consultation.
2. Transaxillary breast augmentation also requires special training and experience using an endoscopic camera.
Endoscopic technology has improved patient comfort and recovery for many medical procedures, allowing for fewer scars and increased surgical access in procedures such as hysterectomies, treatment of certain lung tumors, and routine scans of the digestive system. Training and experience with this same advanced technology is required for a safe transaxillary breast augmentation.
3. Some surgeons may tell you the transaxillary approach is problematic or can't give you the best possible results.
A skilled cosmetic surgeon can use the transaxillary approach to deliver beautiful breast surgery results, but many surgeons are not trained in this breast augmentation technique and/or are unfamiliar with the technology used. These surgeons may argue that it is necessary to visualize the breast pocket through a frontal incision, simply because they are untrained in the transaxillary technique—but the truth is that surgeons who use transaxillary breast augmentation are able to get the surgical access and breast pocket visibility they need with the right tools and technology.
4. Most, but not all, breast implant options can be placed this way.
All styles of saline implant and most styles of silicone implants can be placed through transaxillary incisions, though the incisions may be slightly larger for higher-volume silicone implants. If your desired outcome requires placing silicone implants in the highest volume range, this may not be possible through transaxillary incisions.
Talk to your surgeon about your desired results, and they can help you determine whether that result is possible through transaxillary incisions. Rest assured that the majority of our breast augmentation patients' goals can be reached with this incision placement.
5. It is called "scarless" breast augmentation, but you will have a scar in each armpit.
While there are no visible breast scars, you will have a scar in each armpit. Your scars will likely fade to near invisibility no matter where your incisions are placed if you follow these recovery and scar care rules:
Follow all instructions to apply ointment to your healing incision
Avoid stressing your incision sites with while you heal
Avoid working out or lifting heavy items for a number of weeks
After incisions have healed, use scar minimizing treatment
Wear sunscreen, as sun damage darkens scars
The subtlety of scars hidden in the folds of the underarms appears well-hidden to many women, but remember that, especially during the healing period, they may be visible in situations where your arms are raised.
6. Transaxillary breast augmentation recovery is about the same as it is for other breast implant surgeries.
Breast augmentation has a manageable recovery, usually requiring less than a week of rest. The same is true of transaxillary breast augmentation. One small difference is that you will need to avoid shaving your armpits while you are in the initial healing period. (Or, you can opt to ditch this chore forever by undergoing laser hair removal ahead of surgery.)
7. Talk to your surgeon about where your incisions will be for any secondary breast surgeries down the road.
There's no set schedule for when you will need to exchange your breast implants. But most patients with breast implants eventually have a secondary surgery, whether because they desire an aesthetic change, body changes (such as pregnancy) have affected the appearance of their breasts, or after they experience a complication.
Secondary surgery through transaxillary incisions was once thought to be impossible, but recent research shows that certain techniques used in the initial surgery may make revision through your original incisions possible. This is good news for patients, since revision may not require you to have new incisions, and therefore help you avoid scars in other areas.
Establish a clear line of communication about this up front: in your initial consultation with your surgeon, ask them what techniques are possible in revision surgery down the road, and whether or not those incisions may leave you with additional scars on the breasts.
Consult with cosmetic surgeon Dr. Kevin Duplechain in Lafayette, LA
To learn what transaxillary breast augmentation can do for you, we invite you to schedule a consultation with cosmetic surgeon Dr. Kevin Duplechain either online or by calling (337)456-3282.