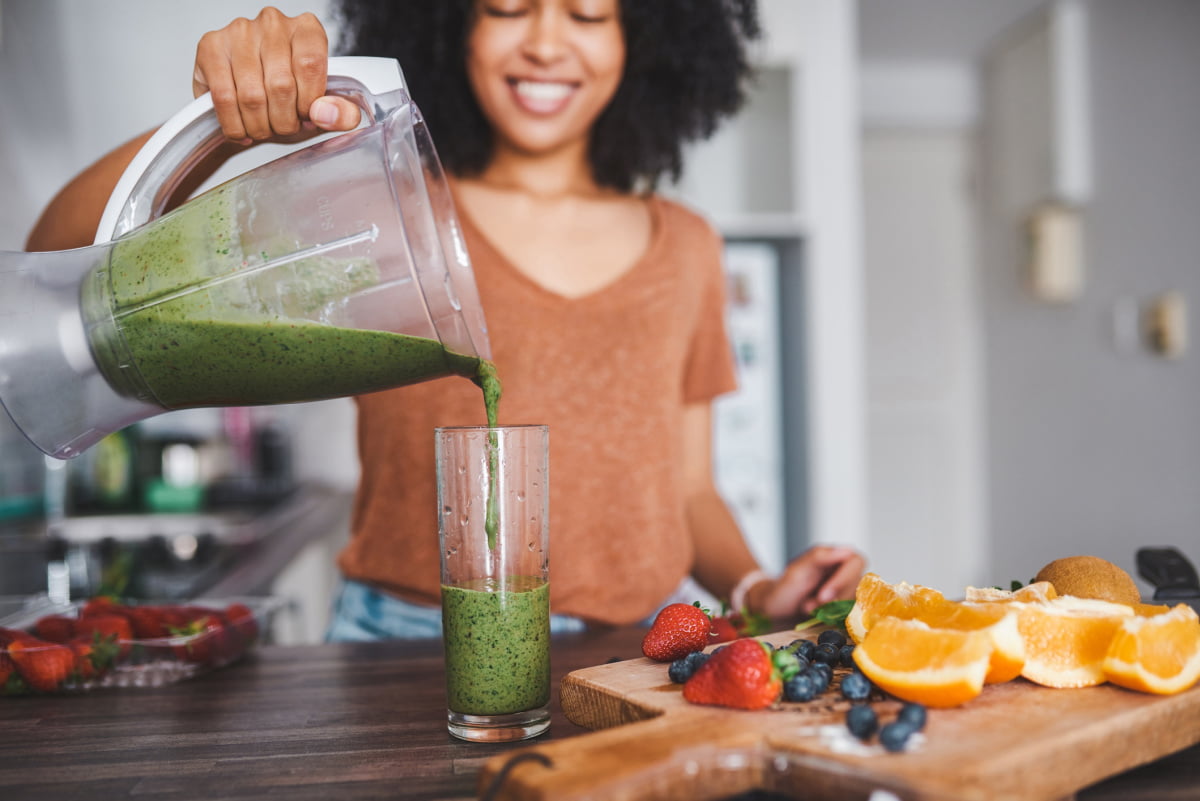 For many of us, 2020 wasn't our best year. But, with more time spent at home, we were able to re-focus our attention on our health and nutrition. While the tech sector experienced the largest growth of any industry this past year, the health foods sector wasn't far behind, with companies presenting innovative ways for us to get our daily dose of vitamins and nutrients. From powdered superfood blends to probiotic-rich krauts, here are the biggest health food trends to watch for in 2021.
Immune boosters
With COVID-19 still present, expect to see a lot of immune-boosting foods in 2021. Ingredients like turmeric and ginger can reduce inflammation and boost your immune system. Elderberry and echinacea are also herbal ingredients that have long been used to promote immune health, and we're seeing plenty of food and drink products incorporating them.
View this post on Instagram
Plant-based foods
You don't have to be a vegan to eat plant-based foods—eating more vegetables, legumes, and other whole foods is a great way to naturally boost your immune system.
View this post on Instagram
Coffee
Does coffee ever really go out of style? Not in our office! In 2021, you can expect to see this household staple show up in everything from candy to booze.
Fermented foods & beverages
If you're apprehensive about trying fermented foods, don't be. If you eat pickles or yogurt, you're already incorporating them into your diet! Fermented foods and beverages are a great way to naturally obtain gut-healthy bacteria, vitamin C, iron, and zinc, plus they add a tanginess to your favorite foods. And since they have the benefit of boosting your immune system and helping you recover from sickness, we don't see them going out of style in 2021.
Veggie-packed foods
It's going to be easier than ever to get your daily dose of veggies in 2021, with everything from kale to sweet potatoes popping up in your favorite foods.
Localized food delivery
COVID made us all aware that the grocery industry is not exempt from supply chain issues. (Did you struggle to find yeast last year, too?). With grocery delivery services like Instacart reaching all-time highs in 2020, we expect this trend to continue into 2021, but with an emphasis on connecting local farmers and their products to their hungry neighbors.
Health food options in Lafayette, LA
Speaking of local food, we love shopping for groceries at Sandra's Cafe and Health Food Store in Lafayette. They make it easy to eat healthy, plus, Sandra's has an in-store cafe serving up some delicious breakfast and lunch options!
Tired of meal service subscriptions that only deliver ingredients? With Louisiana-based company Good Eats Kitchen, you can have fully-prepared, healthy meals with a focus on local, seasonal ingredients delivered straight to your door. Plus, you can even get your favorite food brands, like Big Easy Bucha, Justin's, and Kind, delivered with your meals.
From farmer's market to food truck to a brick and mortar restaurant, Scratch Farm Kitchen has rapidly evolved to meet the demand of its avid fan base. Its two female owners serve up scratch-made vegetarian, vegan, and meat-forward dishes with a focus on sourcing ingredients from local farmers and businesses. At Scratch Farm Kitchen, everything from their broths to their condiments are made in-house. If you're serious about eating healthy, tasty meals that directly support the Lafayette and surrounding community, you can't do much better than Scratch Farm Kitchen.
View this post on Instagram
Meet your local Lafayette cosmetic surgeon, Dr. Duplechain
Board certified cosmetic surgeon Dr. J. Kevin Duplechain has been committed to helping men and women in the Lafayette area look and feel great for over 30 years. To learn how Dr. Duplechain can help you enhance your physique, contact us online or call (337)456-3282.