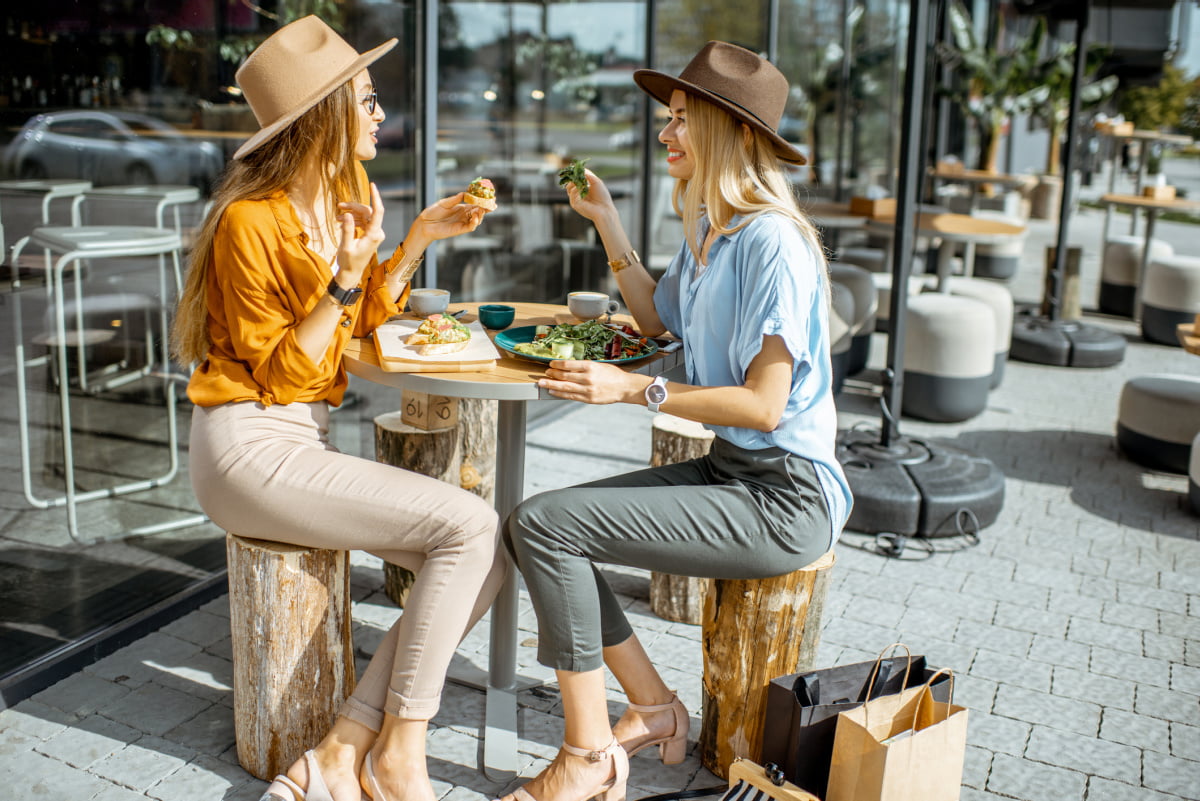 Please be advised: Travel restrictions, business hours, and safety measures in Louisiana are changing rapidly due to the COVID-19 pandemic. Be sure to check local restrictions and be willing to adhere to any and all safety regulations before planning a trip to any of these Lafayette businesses.
Lafayette is situated in the heart of Cajun Country, just a short drive from New Orleans and Baton Rouge. Dubbed the Happiest City in America, it is known for its rich cultural heritage, robust culinary scene, and beautiful tree-lined downtown. But, as its happy residents will attest, Lafayette also boasts a budding wellness scene, with health-conscious restaurants, spas, and fitness studios popping up almost daily. In honor of National Wellness Month, support your physical and mental well-being by using this one-day itinerary full of healthy activities in Lafayette.
8am: Coffee at Rêve Coffee Roasters
The health benefits of drinking a cup or two of coffee a day have been well-documented, from promoting weight loss to reducing blood pressure. When it comes to java, no one offers up a smoother, more flavorful cup than Rêve Coffee Roasters. Order their Breakfast Blend and forego any syrup or milk for a zero-calorie energy boost. For a light breakfast, Rêve typically offers a few vegan and gluten-free muffins and pastries, plus one of the best bowls of oatmeal around.
View this post on Instagram
9am: Yoga at Acadiana Yoga and Wellness
Now that you're awake, it's time to stretch it out with a morning yoga class at Acadiana Yoga and Wellness. Acadiana takes an integrated approach to health and wellness by combining physical movement with mindfulness and meditation. They offer a variety of classes for all skill levels, including pilates, vinyasa, hatha, and more.
11am: Retail therapy at Genterie Supply Co.
Fragrances have a powerful effect on the mind: a whiff of cinnamon or allspice can transport you into fall, while lavender can promote calmness and help with sleep. Genterie Supply Co. offers a rotating line of scented candles for all occasions and moods, from energizing citrus to de-stressing rose. Our favorite of their *many* candles is Ambrosia, a blend of rosemary, mandarin peel, hinoki wood, and iris root from the company Boy Smells. Plus, as part of Boy Smells' 2021 Pride Collection, Genterie is donating a portion of proceeds from each candle purchased to the Trevor Project.
View this post on Instagram
12:30pm: Lunch at Scratch Farm Kitchen
Plate lunches, or "meat-and-threes," as they're colloquially referred to, are as common throughout the South as sweet tea. While traditional plate lunches aren't the most healthy food option (think fried chicken with collards cooked in backfat), our friends over at Scratch Farm Kitchen are putting a healthier twist on this Southern staple. Not only do they source all their food from Louisiana and Mississippi farmers, but they also offer vegan, vegetarian, and gluten-free options—still a somewhat rare find in Cajun Country. Load your plate with a protein, like jerked chicken salad, pulled mojo pork, or a veggie patty, and pick two sides, like pickled beets, hash potatoes, grits, or grilled broccoli. This may easily be one of the prettiest and most nutritious plate lunches you've ever had!
View this post on Instagram
2pm: HydraFacial® with Dr. Duplechain
You've been nourishing your body and mind all day—now it's time to kick back and let our expert Lafayette aestheticians refresh your skin with a HydraFacial®! HydraFacials use a 3-step regimen to cleanse, exfoliate, and hydrate the face with nourishing serums. Each HydraFacial treatment is tailored to meet your unique skin needs, and offers a variety of antioxidants and peptides to protect your face from future damage. The best part? HydraFacials only take about 30 minutes and have no downtime, so you'll be ready to show off your new glow at dinner!* Just be sure to schedule your HydraFacial before your trip.
*It's normal to experience some redness and sensitivity for the first few days after a HydraFacial, as your skin rebuilds new, healthy layers.
View this post on Instagram
3pm: Afternoon pick-me-up at the Karma Collective
For a delicious afternoon pick-me-up, grab a matcha smoothie from the Karma Collective. Packed with energizing matcha green tea, plus vegan vanilla protein powder, dates, cashews, and brazil nuts, this smoothie is light enough to keep you moving yet filling enough to hold you over until dinner. Or, if you're feeling indulgent, grab one of their fan-favorite vegan & gluten-free cookie dough truffles! Life's all about balance, after all.
View this post on Instagram
7pm: Dinner at Masala Indian Kitchen
We love Masala Indian Kitchen because they offer a load of healthy (and healthy-ish) North Indian dishes to please a variety of palates. Try their mouth-watering tandori chicken, marinated in a mixture of yogurt & tandoori spice, and their flaky samosas, served with sweet mango chutney. Or, if you're vegan or vegetarian, the vegetable biryani and vegetable sizzler plates are both delicious dinner options.
More wellness-boosting activities in Lafayette
Looking for more ways to find peace, joy, and wellness in Lafayette? Take your zen to the next level with one or more of these activities:
Visit the Buddha temple in Jungle Gardens. Jungle Gardens is only a 40-minute drive from downtown Lafayette, but feels like a world away from any civilization. The gardens are known for their centuries-old Buddha statue, which many practicing Buddhists still visit to pay homage.
Get your groove on at a music festival! Lafayette has a number of highly-acclaimed music festivals, like the Festival International de Louisiane and the Festivals Acadiens et Créoles. Shake it Cajun-style!
Meditation at Katog Choling Tibetan Cultural Center. Meditation is used to clear the mind and has been shown to ease a number of health issues, such as high blood pressure, depression, and anxiety. Whether you're new to meditation or an experienced practitioner, Lafayette's Katog Choling Tibetan Cultural Center offers classes on the Katog Choling meditation technique, plus group meditation on Sundays and Thursdays.
Happy Wellness Month from your friends at Dr. Duplechain's Lafayette medical spa
We hope you've enjoyed these soul-soothing and wellness-boosting Lafayette activities! If additional pampering is on your wish list, let us design a whole day of skin-reviving treatments tailored just for you. We offer a full selection of chemical peels, radiofrequency microneedling, and other skincare treatments to help you feel rejuvenated inside and out. Schedule your next appointment online or give us a call at (337)456-3282.