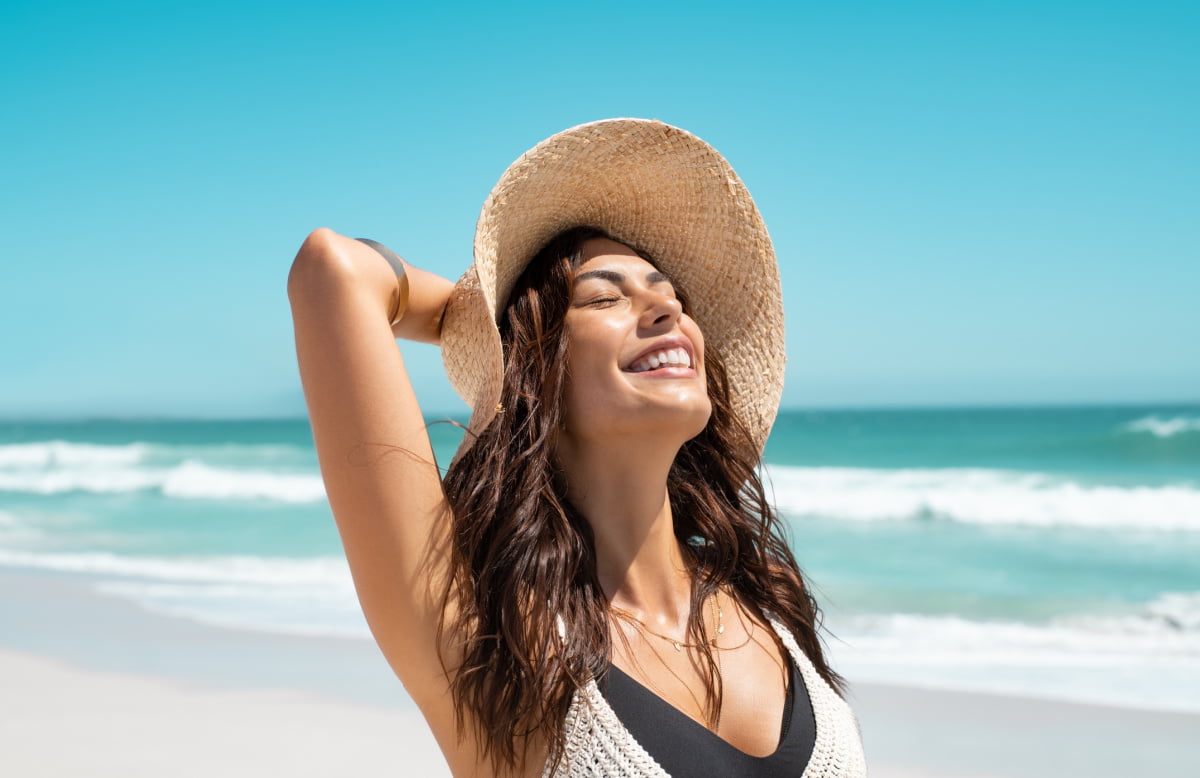 We love summer! From kayaking on Lake Martin to exploring the charming streets of downtown Lafayette, our area of Louisiana offers endless fun. And whether you're planning to enjoy summer at home or head over to one of our nearby white sand beaches, we know you'll want to look as relaxed and rejuvenated as you feel.
While summer is the perfect time to undergo many cosmetic treatments, there are some procedures you should avoid or take extra precautions for because of their interaction with the sun. In this post, we'll cover which non-surgical procedures are safe to get and which to avoid or modify during the summer.
Treatments to modify during summer
Because your skin is already dealing with dehydration, sweat, and excess oil production during the summer months, it's important to avoid procedures that will irritate it. Certainly, any procedure can be performed any time of year, but a little extra caution is advisable during the summer months. Here are a few non-surgical treatments you may consider modifying during the summer:
1 . Chemical peels
What they are
Chemical peels exfoliate skin to remove old, dead cells, revealing a brighter complexion and smoother skin tone. Many people love chemical peels for their ability to produce a rejuvenated, youthful glow with minimal downtime.
Should you avoid them during summer?
Whether or not to have chemical peels in the summer is a topic to discuss with Dr. Duplechain or one of his aestheticians. While peels can make your skin more sensitive to the sun's rays, they're a great way to trade in your old, dead winter skin for a fresh summer glow. As long as you apply a broad-spectrum sunscreen after your treatment and avoid direct sun exposure for the first few weeks (plan your beach vacation accordingly!), you can still safely get a chemical peel in the summer.
2. Laser Hair Removal
What it is
Laser hair removal uses a light-emitting device to apply thermal energy to select hair follicles, effectively damaging the follicles and preventing further hair growth.
Should you avoid it during summer?
Because laser hair removal targets melanin in your skin, a sudden change in melanin (the result of a suntan) may interfere with your hair removal. Laser hair removal also leaves treated skin more sensitive and, therefore, more vulnerable to UV rays. If your skin is exposed to sunlight for an extended period of time following a laser hair treatment, hyperpigmentation, brown spots, sunburns and other skin damage can occur.
Our final verdict? Because laser hair removal requires multiple treatment sessions spaced a month or two apart, it's difficult to avoid getting treatments around summertime. Here are a few tips to help ensure you get the best results from your laser hair removal:
Try your best to start treatments in the fall or winter.
After your laser hair treatment, wait at least two weeks before spending time in the sun.
Always wear a broad-spectrum sunscreen when outside.
Because your skin is already dealing with dehydration, sweat, and excess oil production during the summer months, it's important to avoid treatments that will irritate it.
3. Retinoids
What they are
Retinoids are vitamin A derivatives found in certain skincare products that stimulate collagen production, improve lines and wrinkles, even out pigmentation, and treat acne. Both retinol and retinoic acid are considered retinoids, with the latter being more potent and only available through a physician.
Should you avoid them during summer?
While retinoids can be a wonderful beauty enhancer, many people experience redness, dryness, and peeling when starting them, all of which make skin more vulnerable to sun damage. Retinoids themselves are also sensitive to sunlight: the sun deactivates the retinoid structure, making it less effective.
To protect your skin (and your skincare investment), we recommend applying retinoid products at night to avoid direct sun exposure while skin may be irritated, and always applying a high SPF, broad-spectrum sunscreen during the day. We love SkinCeuticals Retinol 0.5 for sensitive skin because it has a slightly lower concentration of retinoids without sacrificing any skin-repairing benefits.
Treatments to say yes to in summer
While certain lasers and abrasive treatments should generally be avoided in the summer, other non-surgical procedures are ideal for this season. Here are a few summertime procedures you should say "yes" to:
1. HydraFacial
What it is
Considered a "hydradermabrasion" treatment, a HydraFacial uses a continuous jet of water to deeply cleanse, hydrate, and nourish your skin with no downtime. HydraFacials are gentle enough to preserve your skin's surface, yet powerful enough to remove dead cells and extract oils from deep within. Another benefit of HydraFacials is that they are fully customizable, allowing you to add nourishing serums to improve your skin tone and counteract specific skin issues such as fine lines, sun spots, and laxity.
Why it's a great summer treatment
HydraFacials don't rely on lasers, harsh abrasives, or strong chemicals, making them safe for all skin types, especially sensitive skin. And since they are non-abrasive, you won't have to worry about your skin being extra sensitive to the sun. That said, it's still important to apply a high quality sunscreen after your HydraFacial.
2. Microneedling
What it is
Microneedling uses tiny needles to create micro injuries in the skin, which cause your body to release a variety of growth factors to heal it. Microneedling is a collagen induction therapy, meaning it stimulates collagen and elastin production deep within the dermis for smoother, tighter skin. Microneedling can also diminish fine lines, acne scars, and other skin irregularities. And, unlike many laser treatments, microneedling is a safe procedure for those with darker skin types. We use the SkinPen microneedling device at our practice for its ability to drastically improve skin tone in just a few easy treatments.
Why it's a great summer treatment
As you've likely gathered, just because a non-surgical treatment modifies the skin doesn't make it a no-go for the summer. Microneedling is ideal for getting glowy, hydrated summer skin because it actually preps your skin to better absorb skincare products, including sunscreen. SkinPen microneedling has also been proven to improve the appearance of stretch marks, so get this treatment before your next beach vacation or pool day!
Pro tip: Since your skin may be slightly pink following your microneedling treatment, we recommend using a tinted sunscreen that will both calm and protect your skin, like SkinCeuticals Physical Fusion UV Defense SPF 50.
3. Dermal fillers
What they are
Dermal fillers are gel-like substances that are injected below the skin's surface to volumize skin and improve the appearance of dynamic lines and wrinkles (those caused by facial movements like smiling and frowning). Depending on the brand, dermal fillers can be made of a few different compounds, including hyaluronic acid (HA), calcium hydroxylapatite (CaHA), poly-L-lactic acid (PLLA), and polymethylmethacrylate (PMMA). Most fillers last roughly 6 to 12 months, with some—like PMMA fillers—lasting up to 5 years.
The main differences between fillers is their lifespan and viscosity. We offer a variety of fillers at our Lafayette office, including Juvéderm®, Radiesse®, Sculptra Aesthetic®, Belotero®, and Restylane®. Each of these fillers is specially formulated to treat specific aesthetic concerns, from reducing under eye bags to plumping cheeks.
Why they're a great summer treatment
Fillers are an ideal treatment for the summer months because they require no downtime and they don't interact with the sun. While you should still apply sunscreen and wear other sun protection when outside, your skin won't be sensitive to sun or heat after your injections.
Whether you're planning a romantic beach getaway with your sweetheart or spending time with friends or loved ones, dermal fillers can help you look more youthful and vibrant. Just make sure to choose an experienced injector (hint: choose a board certified cosmetic surgeon!) to help ensure you get great results.
4. NuEra Tight®
What it is
Non-surgical body contouring procedures like NuEra Tight® can provide the benefits of body contouring without the risks and downtime of surgery. And while most nonsurgical RF treatments address only fat or loose skin, NuEra Tight can reduce fat and cellulite, tighten loose skin, and smooth wrinkles. NuEra Tight can be used on the back, abdomen, thighs, buttocks, and even the face.
Why it's a great summer treatment
Like fillers, NuEra Tight is a great summer treatment because it doesn't require downtime, meaning you can get right back to doing the things you love. Also, NuEra Tight doesn't require incisions or damage the skin, meaning your skin won't be at heightened risk of sun damage. Because it takes a few months for your results to be fully visible, early spring is the best time to start your NuEra Tight treatments to be ready for summer vacation. That said, you can still start your treatments in the summer and enjoy some moderate improvements in as little as a month!
Make sure to choose a board certified cosmetic surgeon to help ensure you get great filler results.
5. Medical-grade sunscreen
What it is
Unlike OTC sunscreens, medical-grade sunblocks contain a higher concentration of active ingredients (such as naturally-occurring titanium dioxide and zinc oxide) to provide advanced protection. Medical-grade sunscreens are also less likely to irritate your skin because they tend to be free of irritating fragrances and parabens, as well as being non-comedogenic.
Why it's essential during summer
Medical-grade sunscreen should be an essential part of everyone's skincare routine regardless of the season, but it's especially critical during the summer when the days are longer and the sun's rays are more intense. Just be sure to avoid sunscreens that contain high concentrations of essential oils or citrus ingredients like lemon, grapefruit, bitter orange, or bergamot, as citrus ingredients are phototoxic and contain furocoumarins that can burn your skin if exposed to UV rays.
Visit Lafayette's Dr. Duplechain for the best summer ever
Whether you're looking to tighten loose skin, slim your waistline, or find a prescription-strength sunscreen, board certified cosmetic surgeon Dr. J. Kevin Duplechain can help you choose the perfect summertime procedure or product to meet your aesthetic goals. Contact us online or call (337)456-3282 to schedule a personal consultation with Dr. Duplechain today.