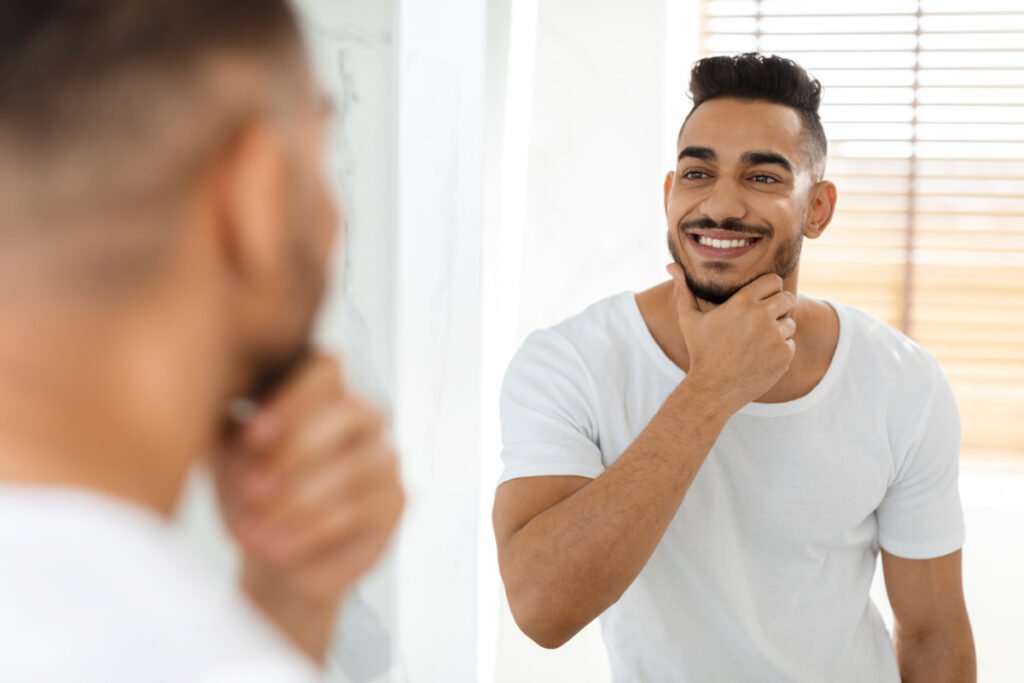 We wanted to share with you some of our male patients' favorite aesthetic treatments. Cosmetic procedures can not only help you look your best, but can help you feel more confident and self-assured—and non-surgical options do so with little or no downtime, making them easy to fit with most men's lifestyles.
If you are a guy looking to achieve a more rested appearance, here are our top 6 minimally-invasive and non-surgical procedures for men in Lafayette.
#1. Botox for men—a.k.a "brotox."
BOTOX® is the #1 cosmetic treatment that men ask for. It smooths forehead furrows, frown lines between the eyebrows, crow's feet, and other expression lines by stopping nerve signals to wrinkle-forming muscles, effectively relaxing them. This means that results can look very natural; you'll simply look more rested and refreshed.
Botox treatment for guys is different from women: your muscles are stronger and require more product to see results. That said, you'll still want a refined approach to dosing and treatment to ensure natural-looking results. This is why it's important to seek out a highly qualified injector who has extensive experience treating men and will customize Botox for your goals and anatomy.
#2. Hair restoration with NeoGraft
If you're struggling with hair loss or thinning, you're not alone. It's incredibly common, and yet can be demoralizing when—despite taking good care of yourself—you find that your hair isn't as thick as it used to be. For a treatment that gets excellent results, we offer NeoGraft, a modern, minimally-invasive procedure that involves transplanting healthy hair follicles from one area of the scalp to those that are lacking in hair growth. There are no incisions or scars, and results are very precise and consistent.
Patients are usually back to work in about 2-3 days, and fully back to their normal routine in a week. While much less downtime is needed compared with traditional surgical hair transplant techniques, NeoGraft leads to long-lasting, natural-looking results.
NeoGraft is a modern, minimally-invasive procedure that involves transplanting healthy hair follicles from one area of the scalp to areas lacking in hair growth.
NeoGraft + PRP injections
Injections of PRP, or platelet-rich plasma, stimulate hair growth using your own natural growth factors. While PRP can be used alone, combining injections with NeoGraft creates a powerful treatment for regrowing healthy hair.
#3. Laser hair removal
Men often see us for laser hair removal to either remove or reduce hair on the back, chest, shoulders, stomach, or wherever else extra hair is unwanted. Laser hair removal can simply thin out hair or completely remove the need for shaving, relieving secondary issues like skin irritation from razors. With repeat treatments, laser hair removal is highly effective, and simply requires protecting your skin from the sun in the weeks before and after treatment. We carry a number of different lasers to cater to all skin types and tones.
#4. Dermal fillers
Our dermal fillers are excellent at addressing creases and deep wrinkles in the face. If you have deep tear troughs below your eyes or parentheses-shaped creases around your mouth, dermal filler can build volume beneath the skin to lift and smooth these creases, shaving years off your looks. Fillers can also help correct a weak chin or jawline by enhancing angles and definition, and most formulas last a year or longer.
#5. Laser skin rejuvenation
If you have an active lifestyle, it probably shows in your skin. Exposure to sun can promote wrinkles, dark spots or pigmentation irregularities, fine lines and loose skin, or visible broken blood vessels. Some men also struggle with acne scars, which can worsen with age. We offer a number of laser skin resurfacing options to address your concerns in our office—we'll customize a treatment plan to restore your skin tone and texture for a more youthful, even look.
#6. Ultherapy
Ultherapy® is ideal when you see your skin's texture start to show your age. Men develop loose or sagging skin, fine lines, and a crepe-like texture on the face and neck due to the aging process, exposure to the sun, and other lifestyle factors. Ultherapy uses radiofrequency energy (RF) applied to the skin surface to carefully heat skin on a deeper level; in response, the body activates a healing response, gradually supplying the treated area with more collagen and elastin—the building blocks of healthy, young-looking skin. The treatment leads to firmer skin, and can be used throughout the brow, face, and neck.
What to look for in a provider of non-surgical procedures
Despite the numerous medical spas offering medical-grade treatments, these can be very dangerous in the hands of unqualified providers—so do your homework and look for someone you can trust with your procedure:
For NeoGraft, which is a minimally-invasive surgical procedure, only trust a highly qualified, board certified cosmetic surgeon.
For injectables, look for a board certified cosmetic surgeon, physician assistant, or nurse injector with many years of proven experience treating men.
For laser treatments or Ultherapy, seek a trained specialist who operates under the guidance of a board certified cosmetic surgeon.
All of these providers should be able to demonstrate their skills to you with their collection of before and after photos, positive online reviews, and clear credentials.
If you are looking for non-surgical procedures in the Lafayette area, Dr. Kevin Duplechain is an experienced, highly credentialed cosmetic surgeon who has offered surgical and non-surgical cosmetic options for more than 25 years. Dr. Duplechain and our skilled laser technicians work with you to understand your goals and help you learn about all of the options available to you. Give us a call at (337) 456-3282 or send us a note online to schedule your consultation today.